FROM OUR FAMILY TO YOURS
For over 40 years, the Carpanini family have been supporting and celebrating independent producers from all over the world.
Our goal is, and has been since the beginning, to discover, introduce and support products that meet our— and your— uncompromising standards.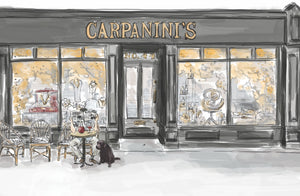 OUR STORY
In 1976 the Carpanini family arrived in Wales from Italy with a passion to share the work of independent Italian producers with the people of Wales. 
Since then, Carpanini's has grown to appreciate the skills of producers from all over the world. Showcasing the work of the very best producers and an insight to their culture. 
WHAT WE DO
• We scour the world in search of passionate, independent producers who adhere to responsible business practices and who are respectful of our values.
• We partner with producers that put sustainable and ethical business first and who value quality over quantity.
• We create products that are physical experiences which tell a story of their origins, craftsperson, and our family.
• We visit our producers often and build strong personal relationships, supporting them in any way possible. 
• We celebrate their skills by introducing their work to a wider audience.