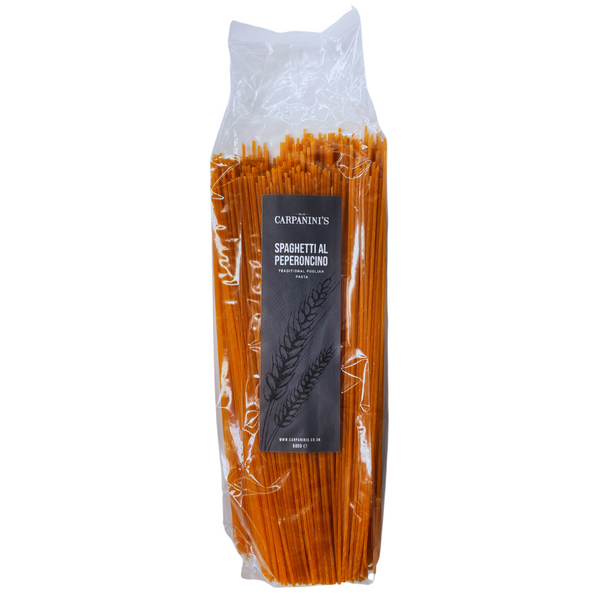 Carpaninis Spaghetti al Peperoncino - Spaghetti with Chilli - 500g
A twist on tradition, this spaghetti is made with fresh chillies to give it a little kick. Our artisan pasta is made in small batches and made from 100% Italian wheat durum semolina. The flavours of the wheat shine through each spaghetto and the structure of the pasta has a real bite to it. Unlike other pastas that are mere accompaniments used to scoop up a sauce, our pasta is the star of the dish.
Spaghetti made with fresh chillies

Small batch

Handmade in Italy

A delicious addition to our tomato & basil sauce
Discover More
Carpaninis pasta is made in a small town South of Mount Vesuvius and a short drive from Sorrento called Gragnano. The town, filled with watermills, is sheltered by the Apennine Mountains and benefits from a sea breeze that brings humidity from the coast. The perfect conditions for producing and drying this distinctive pasta.

Carpaninis pasta pairs perfectly with our very own tomato & basil sauce.
Product details
Carpaninis Spaghetti al Peperoncino
Ingredients
Italian durum wheat semolina, chilli
Nutritional information
Typical values

Per 100g

Energy

1633 kJ

385Kcal

Fat

1.6g

Saturates

0.2g

Carbohydrate

80.2g

Sugars

2.4g

Protein

12.2g

Salt

0.02g