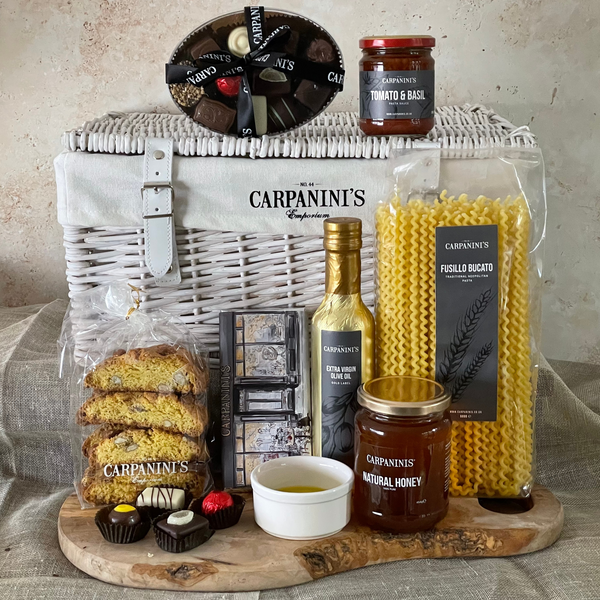 The Carpaninis Food Hamper - White
Bursting with every delicious necessity from our food aisles, this indulgent hamper showcases the best of the Carpaninis food products, all packed inside our famous wicker hamper.
7 Items • Medium Wicker
CARPANINIS ASSORTED BELGIAN CHOCOLATES- 160G
CARPANINIS TOMATO & BASIL SAUCE - 200G
CARPANINIS FUSILLO BUCATO - 500G
CARPANINIS EXTRA VIRGIN OLIVE OIL - 250ML
CARPANINS HANDMADE MILK CHOCOLATE BAR - 85G
CARPANINIS CANTUCCI - ITALIAN BISCUITS - 300G
CARPANINIS NATURAL WELSH HONEY - 454G
Receiving a Carpaninis wicker hamper is truly a joy. Especially when it's filled to bursting with Carpaninis treats!
Please Note: dipping bowl not included.
Discover More

Our fusillo bucato pasta has a perfect partner in our tomato and basil sauce; with a drizzle of our Ligurian olive oil, this dish will really come to life. 
An after dinner tea or coffee wouldn't be the same without our twice baked cantucci biscuits, crisped to perfection, they are a pure taste of Tuscany.
Our handmade Welsh chocolate bar covered with an illustration of our store is melt in your mouth delicious. You may find it to be too nice to share!
If you have to share, our assortment of Belgian chocolates are made for it. From lemon, vanilla, fondant, hazelnuts and praline; there's a flavour for everyone to enjoy.
Our local Welsh honey is heavenly. Poured over hard cheese, drizzled over porridge or even straight from the spoon, you won't be able to get enough.
The Wicker
All of our wicker is hand-woven from willow, a naturally sustainable material that regrows once harvested. The straps, buckles and lid are all made by hand to ensure the highest quality finish. Once empty, you can use it as a picnic basket, as extra storage for your kitchen or bathroom, as a toy chest, a place to store shoes, boots, hats or dog leads. You could even re-gift it!